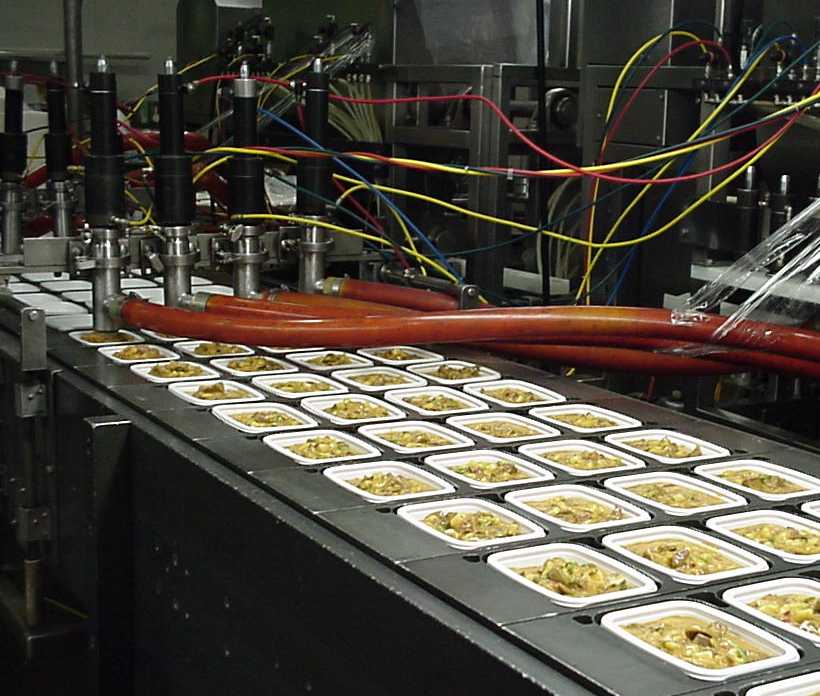 Production equipment used must be clean and free of non-halal ingredients before starting halal production and continue to be free from cross-contamination during production. To assure consumer acceptance, halal foods must be independently-certified as prepared and processed using halal standards and halal ingredients. An on-site trained inspector, assigned by the independent halal certifying agency, assures proper practices are followed.
There are two significant levels of Islamic inspection used in the certified halal meals industry.
Production where the same product mix and ingredients are used every day. In this case, no daily on-site inspector is needed. The certifying agency would need to:

approve ingredients used and suppliers of those ingredients,
establish standard production and quality procedures with the manufacturer, and then
perform a periodic surprise inspection to assure compliance.

Production where non-halal meals and products are produced on equipment that will also later be used to produce halal products. In this case, a fulltime, trained inspector would need to be on-site during the production of halal products to assure no cross contamination occurs. Whenever halal and non-halal meat products are produced on shared equipment, inspection and cleaning are even more involved.
J&M adheres to the most stringent level of halal inspection used in the industry
J&M Food Products Company's commitment assures our customers that the most stringent of halal standards are met when providing our meals. So strong is this dedication that we co-authored and published the first international Halal Industrial Production Standards© manual to help producers and food service personnel understand the practices of adhering to strict Islamic principles.
Some Differences Between Kosher and Halal
The use of alcohol in flavors or colors is not a kosher issue, but it is an issue for halal.
Kosher slaughter does not meet the Islamic religious requirement of invoking the name of God on each animal at the moment of slaughter.
Kosher certification of many vegetarian-type items does not meet halal standards. For example, cheese, marshmallows, candies, baked goods and yogurt may have enzyme or gelatin ingredients from animals which are not halal.
Meat and dairy ingredients can be mixed for halal but not for kosher.
The complexities of processed foods, the international sourcing of ingredients and the religious requirements of dhabiha halal slaughter make halal certification unique.
For additional information, see the article from: Food Technology magazine, Institute of Food Technologists, July 2000, Volume 54, No.7, Getting Religion – For Your Products That Is, by Mary Anne Jackson.
| | |
| --- | --- |
| | J&M® halal shelf stable meals and halal MREs are Certified Halal and Dhabiha Halal by the Islamic Food and Nutrition Council of America (IFANCA®), founded 1982. All meat products are certified dhabiha/zhabiha halal. Islamic slaughter men work under the supervision of independent halal certifying agencies approved by IFANCA. |
At this time, the US poultry market continues to mechanically slaughter under the inspection of Islamic slaughter men reciting prayers. This practice will likely continue until the halal poultry supplier base develops.
In the production of all of our meals, all ingredients are pre-approved by IFANCA and then verified on the day of use by a trained Islamic inspector. All aspects of our meals production is fully supervised. Only then is a halal certificate issued by our independent halal certifying agency.
The food components and packaging used in J&M® rations are certified halal by IFANCA.