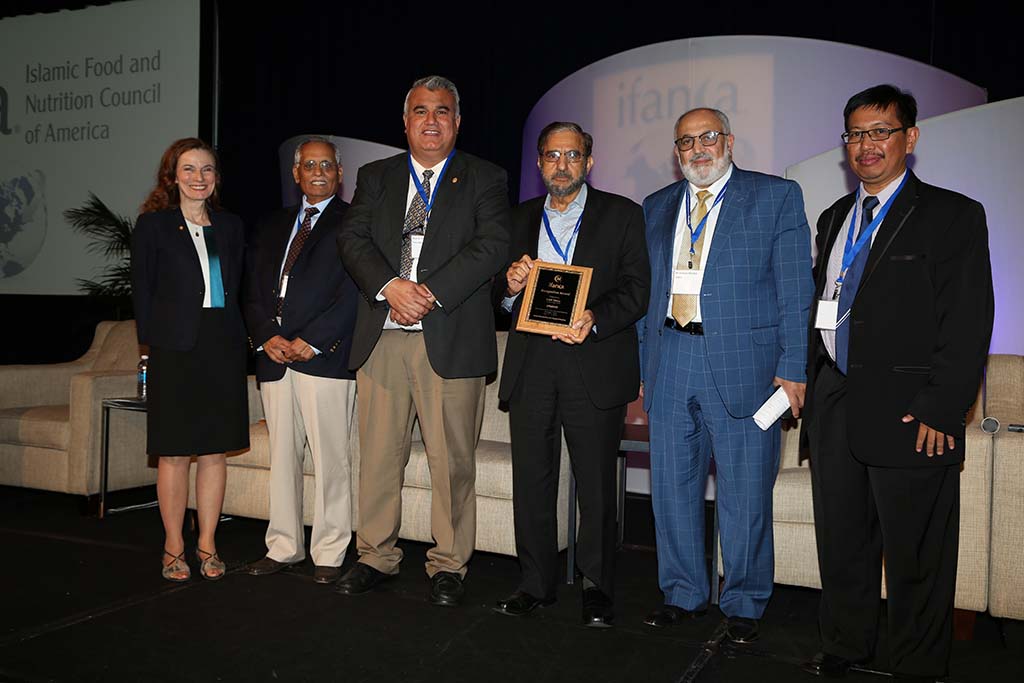 Welcome back!
At IFANCA's 19th Annual International Halal Food Conference on April 17-19 in Chicago, Illinois. I moderated a panel focused on halal food certification standards.  The panel specifically discussed issues and problems related to halal meat product production and is the subject of today's blog.
Halal Food Certification Standards: A History
Twenty-six years ago, we entered the halal market. Our entry began with evaluating, and defining what halal certification meant and represented.  We found that halal standards were loose or non-existent.  And no one was monitoring or holding halal certifying agencies and their employees accountable for their actions or practices, both in the US and internationally.
Some examples of what we found

A Chicago-land grocery store sold pita bread with an IFANCA symbol on it; yet it was an unauthorized use of IFANCA's trademark and only found by chance.
International websites, particularly from China, claimed halal certification by displaying unauthorized symbols of reputable halal certifying agencies.
We found "self-certification" where "independent" halal certifiers had a financial interest in a meat company they certified. This lack of independence brings into question the reliability of any certification.
One halal certifier told us that it did not matter if the product they certified was indeed halal because the consumer was protected. As Muslims, the certifying Muslim would suffer in hell, not the consumer.
More recently, one halal agency certified meat as Islamic-slaughtered for export, yet the meat supplier's standards were not authorized for export to the importing country. To obfuscate the breach in halal and export standards to the USDA and the customer, the halal agency and meat company went further by illegally putting USDA labels from an approved-for-export company on the packages to conceal the actual producer.
Competing in the Halal Market

We also learned that if a Muslim claimed something was halal, consumers and customers accepted the statement with little or no further investigation.  Halal Certificates could easily be obtained for a fee.  As bad as it was in the US, Europe was at least as bad making it more difficult for US businesses to compete with imports documented with dubious halal certificates.  Many American businesses following strict halal standards had to compete internationally and domestically with products "certified" in such a controversial manner.
Meeting Halal Market Expectations
Acceptable halal standards can vary because consumers have differing opinions of what is or is not suitable.  As in kosher, no single set of standards defines what is acceptable. However, the Muslim community can protect its halal customers by implementing simple requirements.
While some halal consumers will accept kosher certification even for meat, kosher is not a direct substitute for halal certification.   A halal agency should not be permitted to label and put its halal symbol on kosher meat/poultry products implying halal slaughter when all it is doing is expressing that kosher is acceptable as a halal substitute.  Jews are not even permitted to slaughter meat if they know it is intended for non-kosher consumers.
For products to be labeled and certified as halal, specific standards should be met and disclosed. We believe each halal agency should publicly publish its slaughter practices and certifying standards as a post on its website or articles in journals.
Let halal consumers decide based upon accurate information and leave kosher products as kosher certified so that halal consumers know what they are buying.  Require halal agencies to publish and disclose their standards.
Facilitating Trade: Defining Halal Standards

Most Islamic countries only permit halal food products to be imported into their country if they are certified by approved or accredited halal agencies.  Malaysia, Indonesia, United Arab Emirates, and Saudi Arabia have this requirement unlike products entering the US, which means there is the potential for shenanigans in the US market.
To communicate what halal certification means for domestic and imported products, we believe it is critical that the US Islamic community:
clearly define halal food standards, and
establish accreditation of certifying agencies.
Government Role in Importing and Exporting
For those Islamic countries to which US companies can export, USDA APHIS publishes on its website those rules and standards required by each country.
However, for halal products imported into the US, the Islamic community has not yet created required halal standards which the USDA-APHIS could monitor, nor are there lists of accepted foreign halal certifiers. This means the US government can only publish the general rules of importation without regard to halal certification on its website.
Setting Halal Food Certification Standards
We believe that no one likely cares as much about what constitutes halal as the people who will be consuming and using halal products.  We also believe the US Government should not be expected to define halal standards.  Its role should be as a monitor to assure that the rules established by the halal community are followed for imports and products produced in the US.  It can verify the certifying agencies are on an approved list of certifiers, and that the paperwork is in order.  The government's role should only be to assure importers, exporters and domestic producers comply with the same set of documented rules.
Policing and Protecting the Halal Market
Once halal agencies publish their standards, then an organization of accreditors could be established to recognize and monitor their activities by:
monitoring the certifying agencies to assure they follow the practices they publish
informing the halal market of halal and labeling violations
reporting products carrying an unauthorized certifying agency's symbol
reporting changes in standards at a halal certifying agency
and generally, monitoring the market and informing halal consumers.
Violations to accreditation might include:
halal agencies found violating civil or religious laws
halal agencies failing to follow its own published standards
or other violations against its agreement for accreditation.
For the accreditation process to be meaningful, violators could lose their accreditation until violations are corrected.
Final Words:  Halal Certification
The issue of halal certification standards is complicated but is gaining international recognition.  While efforts are underway in the US to create an accreditation process of halal agencies and to define basic halal standards, it is difficult to find a reputable organization willing to champion this process. An accreditation board must be an independent authority with the stamina to withstand scrutiny and criticism.  It would also be charged to establish and monitor basic halal standards, which will most assuredly be interpreted differently by those implementing them.
I am sure we will be discussing this subject for some years to come because even twenty-six year later, it is still in its early stages.